Andries Beukes discusses with Cintia Cheong (InsuranceERM) the findings of an investigation into how insurers are planning to calculate their IFRS 17 risk adjustment and confidence level.
Much of the discussion around the implementation of IFRS 17 has focused on new elements such as the contractual service margin. But methodologies to establish the risk adjustment, and the confidence level used to determine the risk adjustment, have received less attention.
This is surprising, since the risk adjustment is, "a key driver of an insurer's profit signature", according to MBE Consulting. The consultancy's report, A Calculated Risk: An Industry-Wide Investigation into the IFRS 17 Risk Adjustment and Confidence Level, was published to help understand the practices that are evolving in the market.
What is the risk adjustment?
IFRS 17 Insurance Contracts defines it as: "The compensation an entity requires for bearing the uncertainty about the amount and timing of the cash flows that arise from non-financial risk as the entity fulfils insurance contracts." Those non-financial risks are mainly mortality/longevity, lapse and expense risk. It is similar in concept to the risk margin in Solvency II.
Given IFRS 17 is principles-based, there is little guidance around how insurers should calculate the risk adjustment, making comparisons difficult. This is when disclosure of the confidence level for the risk adjustment is supposed to help.
In MBE's survey of nearly 20 insurers in Europe and South Africa, 56% of respondents are considering a one-year time horizon, while one in four (39%) prefer an ultimate run-off approach. Traditionally, insurers are much more familiar with the one-year approach, Beukes says, but some audit firms have interpreted the IFRS 17 regulations as being ultimate run-off. "What you end up with in the end is almost incomparable between companies", defeating the objective of IFRS 17, he says.
A one-year approach is preferable for insurers, he argues, as trying to measure the ultimate run-off business is computationally onerous and conceptually difficult to communicate.
"If this decision is to be determined by market consensus rather than regulatory guidance, we would urge companies to lobby for a one-year approach," Beukes says
Preparedness
Insurers' readiness for the calculation of risk adjustment and the disclosure of confidence level appears to vary. The report shows 61% of respondents have started to consider an approach for risk adjustment, while half of them are still having internal discussions on the confidence level. Beukes warns companies wanting to make changes may struggle to have these decided in time for the implementation date of 1 January 2023.
"I do suspect that the more the risk adjustment becomes in the spotlight, the board and senior management are going to ask more questions, which will soon drive behaviour as well. You may see a lot of companies changing their approach over time. There could be a worry that they may run out of time if they are going to make some of those changes."
Risk adjustment methodology
The most popular methodology for insurers to measure IFRS 17 risk adjustment is cost of capital (CoC), as cited by 39% of respondents. This is followed by stress and correlation value at risk (VaR, 22%); scenario VaR (17%); and margins for adverse deviation (17%). Breaking down the findings by region, the majority (71%) of firms in South Africa plan to use the CoC approach, while responses in the UK and Europe are more varied.
Scenario VaR and margins for adverse deviation were the most popular methodologies in the UK and Europe, selected by 28% and 27% of respondents respectively. The remainder selected CoC, stress and correlation VaR (18% each) and market consistent price of risk (9%). MBE says this may be because many of the larger UK and European insurers developed internal models for their Solvency II calculations, so may already have the stochastic models to allow a scenario VaR or margins-for-adverse-deviations approach.
Beukes explains that the CoC method calculates a risk adjustment by applying a factor (the cost of capital rate) to the discounted sum of capital requirement amounts over all future time periods. Therefore, the result is very sensitive to the discount rate used in the calculation, he says.
The UK is a low interest rate environment, which means that calculated present values will be higher for a given future capital requirement than in South Africa, for example, where interest rates, and hence discount rates, are higher. This will result in a higher cost of capital, he notes.
Coupled with this is the fact that the UK writes a lot of annuity business, which is generally very long-tailed in nature. The longer the duration of a contract, the more sensitive it is to movements in interest rates. This means that the risk adjustment of companies using a CoC approach would be highly exposed to movements in interest rates.
"These factors may, at least partly, explain why companies in the UK, who have internal models available, tend to prefer a VaR approach, while South African firms seem to favour a CoC approach," Beukes says.
Confidence level
Using MBE's Risk Analyser Tool – which enables firms to build confidence intervals for the risk adjustment calculated under IFRS 17 – the consultancy found that three-quarters (75%) of respondents using the VaR approach are targeting a confidence level of between 80% and 90%, with the remainder going for 75% or 95%. The most popular confidence level is currently around 85%.
By way of comparison, MBE says the implied confidence levels under the CoC approach at valuation date are generally lower than those aimed for by those using a VaR approach, with the bulk of the results being in the 70% to 80% range.
"Insurers using the CoC approach will need to decide whether this is desirable. The implied confidence levels tended to be higher for UK/European respondents, possibly due to the low interest rate environment and the longer average durations of contracts in this region."
Given the limited progress on the confidence level reported to date, MBE believes the findings will change as methodology decisions evolve and market practices develop, with the final confidence level "eventually targeted by insurers most likely being decided by industry consensus over time".
This article was originally published on 14 September 2020 by InsuranceERM and is reproduced here with permission from the publisher.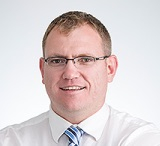 Latest posts by Andries Beukes
(see all)