Data governance is a quality control discipline that covers the obtaining, management, storage and usage of information or data within a business, to maximise the value of the organisation's data assets.
In other words, it is about getting your data and related processes analysed, clarified, prioritised and clearly communicated so that the business can derive value from them.
Intuitively, data should be useful to whoever is using it. And because data requirements will vary between business units, each team must take responsibility for its own data; constantly monitoring its accuracy and completeness, and ensuring that it is consistent and fit for purpose.

Implementing a Lean culture in an organisation can help set the scene for effective data governance.
Lean relies on the 5S principle:
Sort
Set in order
Shine
Standardise
Sustain
When an environment follows these principles, everything looks easy, happens smoothly and results seem to fall into place. If one of these elements is missing, chaos can ensue.
At MBE Consulting, we apply the 5S principle when structuring data governance frameworks for our actuarial clients.
Four key stages to excellent data governance:
Standardise the economic data usage by selecting a single source for data, which saves time and ensures a consistent level of data produced and used throughout the end-to-end process. Once data is obtained, we sort it; retaining the fields that add value to the process and eliminating those that do not.
Then you should shine, or clean, the data, addressing errors, omissions, and outliers.
Our next step in working with clients to re-engineer their processes is to set data in order by populating standardised templates, allowing the data to flow from step to step of the process, and between teams, in a value-adding way.
Finally, to sustain good data governance, a focus on continuous improvement is essential. Once the project has been handed over and the consultants are no longer 'on-site', it is up to the client to take ownership of the process going forward, and continually look for ways to improve efficiency.
Good practices require governance processes to be in place in respect of the management of the data quality. Having good quality data is an essential prerequisite to providing reliable results for financial reporting and in producing management information that can be used in decision-making.
Imagine an orchestra – musicians, notes, instruments, and, of course, the conductor – the orchestration would not be present with that figure. Let's think of data governance as orchestration, but instead of musicians we have the employees of an insurance company; instead of the notes, we have processes, and instead of the instruments, we have the technology and systems.
Of course, let's not forget the conductor – the senior leader. Thanks to the orchestration everybody enjoys great music and cultural inspiration.
And thanks to data governance, the organisation will be able to leverage data as an enterprise asset.
---
Data Governance, and the successful management of data and related processes, is one of the six key Enablers underpinning our Actuarial Performance Management (APM™) Framework. The APM is our unique and proprietary methodology for transforming actuarial performance, comprising a comprehensive, structured approach that underpins our actuarial transformation projects.

Contact us to discover how the APM can support you in optimising your data governance.
Update of the original article, published 21 January 2020.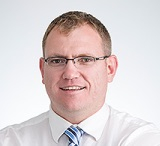 Latest posts by Andries Beukes
(see all)